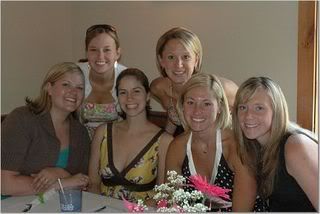 From left: Me, Lana, Megan H (yellow), Liz (the honorable mommy-to-be), Megan B, and Betsy (another mommy-to-be!)
Missing: Shannon, Kera, Brianna and Katie. But, we get to see Shannon and Katie next week! This is so great...I am getting to see all of my girls in one month!
I had a baby shower yesterday for my friend Liz. I think we had more of our friends in one room together since we were in high school!
Liz is 28 weeks pregnant and is looking fantastic! We cannot wait to meet little Emma. I am already trying to devise a way to get out to Phoenix before Christmas.
Yesterday was another welcome opportunity for all of us to get together. What a blast we all had!