I heard the word "chillaxin'" the other day and I can't help but use it every other word. I think it's hilarious how we have dubbed our own 'urban dictionary.' This word makes me giggle every time I think of it. I don't know why, I suppose it is fun to hear rolling off of the tongue.
This weekend, we chillaxed. The rain came again on Saturday morning and we spent the entire morning in bed. We ate in bed, we read, we watched TV. For 3 straight hours. It was divine. It is these moments that we cherish before we have children. We know that they are treasures. Each moment that we spend in peace in quiet before we have kids is a reminder to enjoy it to the fullest. And that we did.
After our marathon lay-in-bed morning, we ran 5 hours of errands. We went to Target, Bed Bath and Beyond, out to lunch, to the mall and to the grocery store. We were whooped!! It was nice to get the grocery shopping done on Saturday instead of Sunday. It allowed for more fun to be had on Sunday.
Sunday I attended another bridal shower for my friend Kera,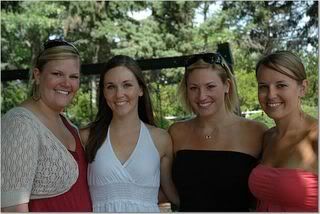 and then I went home and folded the fruits of my weekend labor. The laundry. My husband is so helpful and when I returned home, he had already started. This is the 4th time I have come home from a shower and he is folding laundry. What a guy!
We had a great chillaxed weekend and enjoyed every moment of our freedom. We know these moments are few and far between with the thought of children on our minds.