Yesterday, we had the most beautiful day here in Michigan. It was the perfect temperature, the wind was just barely blowing and the clouds looked like fluffy marshmallows. We have had a spell of really hot weather. Like the kind of hot that makes you want to roll around in mud. Like pigs do, because that is how you feel in this heat. Like a pig.
Last night, a co-worker of mine came over to get an air hockey table that was so kindly passed down to us. We actually received a ping-pong table and an air hockey table, but we only have room for one of these magnificent tables of fun. He brought along his three beautiful girls, and they chased our kitties around while the boys loaded up the air hockey table. The girls were so excited that they had this new toy to go in their newly finished basement. Even though I didn't buy this air hockey table (although we had many fun times playing on it as a kid), I still felt good about giving it to someone who will get loads of use out of it. (Dad, we did a good thing!) Andy reported this morning that the girls, who were all hyped up on Bug Juice and Krispy Kreme's, played for hours last night. And we haven't even set up the ping-pong yet!
Right after he pulled out of our driveway, the sprinklers went on as they usually do. And then the rain came. It was the first time I had seen rain like that in well over a month. It only lasted 8 minutes at our house, and after it left, you could feel the heat lifting high into the sky. I went outside to snap a few photographs because the sky was this eery shade of purple. Like nothing I had ever seen before.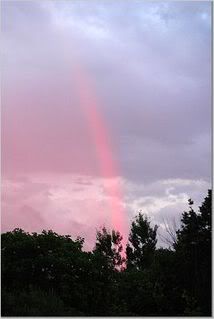 My very good friend,
Amy Carroll
, captured some fabulous shots of the storm coming in off the lake. Go check her "picture of the day" blog and you will see what I mean!! Now that is a storm!