Tuesday night turned out to be one of the best concert experiences in our long list of musical highlights. We arrived a bit late but just in time for Walking on the Moon, which of course is a great way to start out the dance party that was inevitable. The
set list
was awesome. It was put together in such a way that the crowd always remained on their feet and there was never a dull moment.
The reviews of this tour have been mixed. I don't know if it is the older crowd expecting their 'old' Police or what. The general consensus seems to be that the songs are a bit more diluted, slower perhaps, and even a bit jumbled. We didn't notice any of this. All I heard was some fantastic music belting out from the once quiet instruments of these three talented men. They rocked. They rocked like they were 25 again. It was quite the sight and one I will never forget.
Here are some of the highlights that I noted along the way:
Steward Copeland plays the drums like a true rockstar: He did not disappoint. They kept flashing to him on the jumbo-tron and he was in the groove. Never without a smile on his face.
Andy Summers is a mean, mean guitar player. I like to think that I am (or 'we are', considering I don't play the guitar) a pretty good judge of guitar talent. Andy Summers?? He doesn't lack one bit. The guy was jamming out like it was 1978.
Sting...oh Sting. What more can I say?? With your tight spandex on and your muscle T. Megan and I could not have been happier. Oh and we were wondering...what is your beauty secret?? We want some of that "I haven't aged a bit" that you seem to have bottled up somewhere.
Overall, this concert goes down as one of the best we have ever seen. Right along side all of our other classic rock favorites....you, The Police, rocked just like the rest.
*************************************
Yesterday, we decided ahead of time that we would hit up the Detroit Institute of Arts, or DIA as us Michiganders call it. Unfortunately, we got there to find out that it was closed until November for remodeling. We then decided; only because we had directions, that we would go to
Greenfield Village and the Henry Ford Museum.
Remember that
Declaration of Independence that we needed to pickup for Curtis??
Well, he got it! And I got a cool shot of one of the 30 actual copies that still remain.
There was a neat exhibit called "Rock Stars' Cars and Guitars" and they had quite the collection. John Lennon's 1965 Psychedelic Rolls Royce was my favorite. The backseat folded down into a bed!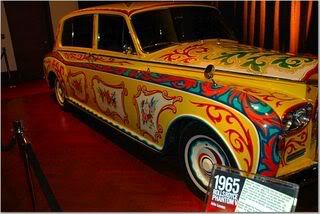 We also saw the Rosa Parks bus, Kennedy's famous limo and one of the biggest locomotives in the world, the Allegheny. It was quite the day!
I will leave you now with a picture of the quartet that was singing for us at Greenfield Village. There was a young girl named, Margie, who had broken her leg and they were singing a little ditty for Miss Margie. It was so cute! She was so embarrassed!